PALATABLE PROTECTION FOR HORSES OF ALL AGES, FOR
A HEALTHY DIGESTIVE SYSTEM!
ALOEQUINE® ALOE VERA GEL FOR HORSES IS MADE
ONLY FROM TOP QUALITY FRESH, HAND FILLETED INNER
LEAF ALOE VERA WITH PULP.  IT IS NOT MADE FROM
POWDER OR CONCENTRATE
Aloe Vera Gel - Only £35.00 per 3.785 litre bottle
Aloequine Aloe Vera Gel contains over 95% pure Aloe Vera juice, produced at a top-class facility in the USA. It is of a quality suitable for human consumption and contains only the inner filleted part of the leaf (including pulp), which has been stabilised using a small amount of naturally occurring ingredients.
Recommended by top trainers and stud farms
Manufactured in association with the Thoroughbred Industry
Top quality inner leaf hand filleted aloe vera gel
International Aloe Science Council approved
Premium product at an affordable price
Andrew Balding, Sir Michael Stoute, Somerville Lodge Racing Stables, Highclere Stud, Littleton Stud, Gary Witheford, James Eustace, David Elsworth,  Sylvester Kirk, Overbury Stud, Roger Charlton, James Ewart Racing, Equine Management and, Training, Amanda Perrett, Cliff Stud, Friarstown Stud, Paul Evans, etc.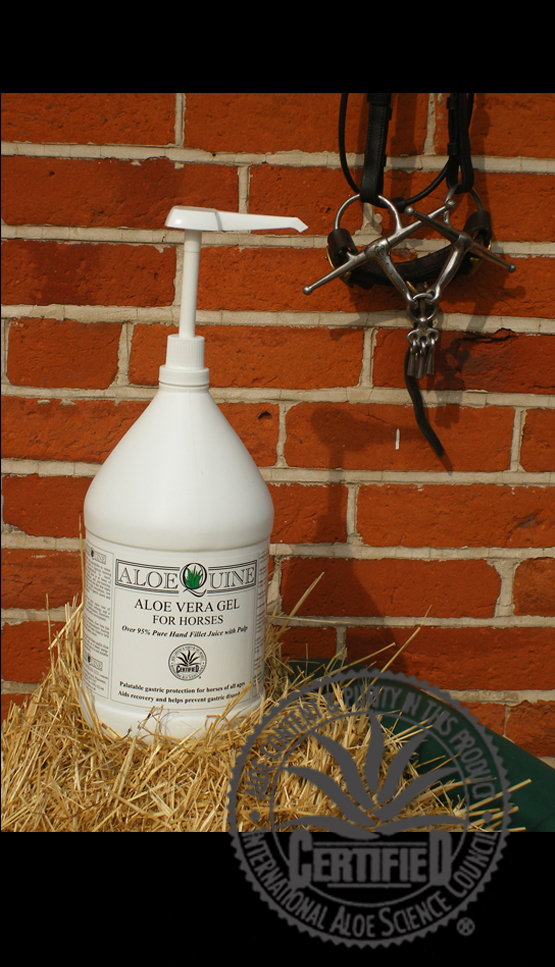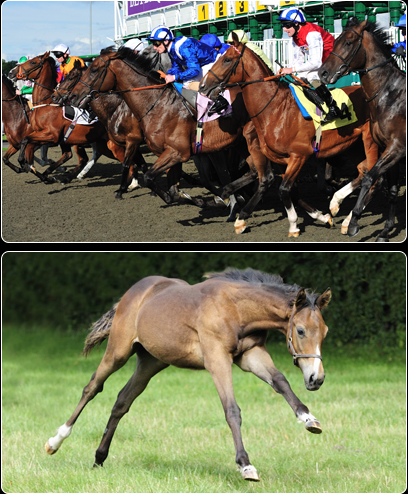 Horses are often subject to a great deal of stress, especially due to rigorous training regimes, transportation to races, competitions and sales, or at times of weaning, breaking and pre-training. This, combined with the fact that many horses are fed a high concentrate, low fibre diet can make it hard to keep them in top condition.
This can manifest itself by a loss of appetite and condition, lethargy and a general drop in performance, therefore, inhibiting progress and/or development.
Adding Aloequine® Aloe Vera Gel to your horse's feed can help your horse during such times and assist in keeping a healthy digestive system.
Aloequine® provides the finest quality Aloe Vera Gel which has been produced specifically with horses and the larger animal in mind; our gel comes in 3.785 litre containers. Each container comes with a pump-action dispenser, which helps to ensure that when used in an outside environment, there is less contamination to the gel than from a screw top.
We use Aloequine on a number of horses at Kingsclere and feel that it has helped to keep them in peak condition over the very busy season.
I am a big fan of feeding Aloe Vera as a good all-round tonic. Aloequine, which is an excellent product, has helped many of my horses.
I have found Aloequine invaluable for use in our yearlings and youngstock at times of breaking and pre-training. We also use it for the horses that are in for rehabilitation